Step 1. Open the Clever Logger dashboard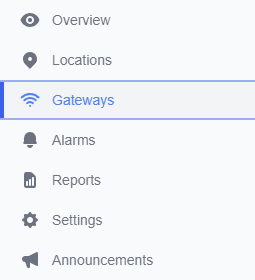 Go to the Clever Logger dashboard
Click on Gateways.
Click on the Add a Gateway button in the top right corner.

Step 2. Enter your Gateway details
Name
You will need to name your Gateway. A good idea is to name it according to where it will be placed (e.g. Kitchen Gateway or Treatment Room Gateway).
ID and PIN
Find the ID and PIN on the bottom of the Gateway.
Offline Alarms
Once connected, the Gateway will be in constant contact with the Clever Logger internet server. If your power or internet fail and the contact is lost, Clever Logger can let you know.
This alarm is switched on by default and, unless you specifically don't want to be notified about connection problems, we recommend that you leave it on.
Offline Alarm Delay
The default here is five minutes because you probably want to be notified as soon as possible if the power is out. However, if your power or internet regularly suffers from short breaks, you may want to choose a longer delay so that you get fewer alarms.
Offline Notification Groups
This is the list of people who will receive a notification if the Gateway goes offline. A default group with one member (you) was set up when you first created your Organisation.
Click the Add Gateway button to finish