All Clever Logger send four types of alarms: 

High Temperature

Low Temperature

Offline (Gateway or Logger)

Low Battery
Additionally, the Temperature and Humidity loggers can return a high or low humidity alarm.
In each case, members of the nominated Notification Group will receive an email. If you have installed the app on your phone, you will also receive a notification through the app.
So what do you do when you get an alarm?

The accent stripe on the left of the panel shows us the status of the alarm.
Red – the alarm is ongoing
Orange – the alarm condition has finished
If the alarm is ongoing, you can "acknowledge" it to prevent further notifications, but you will not be able to close it until the alarm condition has ended.
Do I need to close alarms?
Ideally, your Gateways and Locations should all be green. This makes it easier to spot when a new alarm has occurred.
So, yes, it is good practice to acknowledge and close alarms as soon as you can.
The Clever Logger Alarms system allows you to make notes on each alarm. It is good practice to make a note of what caused the breach and what was done to remedy it.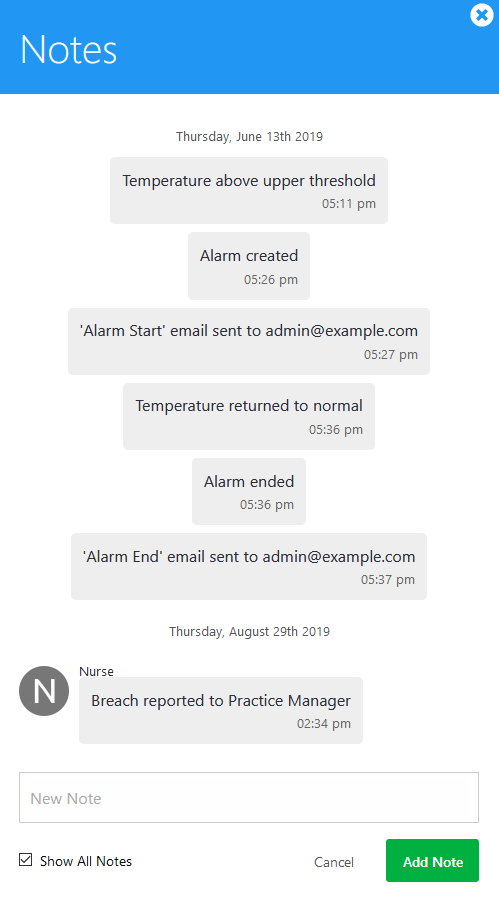 What if I keep getting alarms?
If you keep getting alarms, there is an ongoing problem. Please don't ignore it.
Maybe your internet connection is not stable. Maybe the logger is too far from the gateway. Maybe the logger is in the wrong part of the fridge. Maybe the fridge needs a service.
Whatever the problem, it is important to sort it out rather than just ignoring or switching off the alarms. Call us on 1300 80 88 89 and we will walk you through the possible solutions to your issues.