A thermometer tells you
what the temperature

is
A temperature logger tells you
what the temperature

was
Clever Logger will WARN you
of

what is becoming a problem

A device that tells you the current temperature.
Ideal for when you only need to know the current temperature.
Temperature loggers are ideal for making decisions where the only thing that matters is what is happening right now. For example, a patient's temperature right now is the key factor for determining if they are healthy or sick.
For preparing food, they are useful for determining if the product has reached a specific temperature.
Thermometers are a poor choice as an audit tool because they are only valid for the exact moment at which they are used.
Unfortunately they are still the standard method of monitoring hospitality fridges and are a bit of joke when it comes to food safety.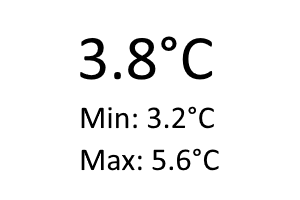 A thermometer that will also show the minimum and maximum temperature since it was last reset.
Traditionally used to show the minimum and maximum temperature over the last 24 hours, but also good for monitoring temperature sensitive items when no-one is present.
Min/max thermometers were the pre-computer solution to trying to know what the temperature was over a given period. The classic use is with weather stations and seeing the minimum and maximum over the past 24 hours.
They are semi-useful for making a decision on keeping or disposing of items, but they lack the one critical piece of information that is really needed – how long was the item too hot or cold?
They are now the standard method for showing the temperature in vaccine fridges. They are useful for indicating if a problem has occurred, but that's it.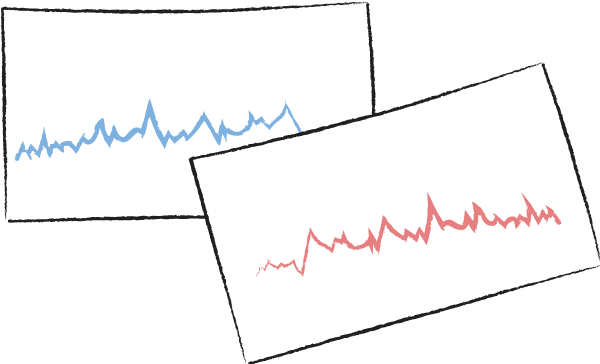 A device that will periodically (e.g. every 5 minutes) record the date, time and temperature. These results can then be viewed on a computer as a graph or table.
While a min/max thermometer can tell you if a problem has occurred, a logger can tell you when it started, ended and how bad it actually was.
This gives you the opportunity to determine
how bad a problem was both in terms of temperature and duration
if stock needs to be discarded
when a problem started
why it happened
Temperature loggers are awesome audit tools as well as incident investigation tools.
Their two limitations are:
they don't warn you that a problem is occuring
you need to manually connect to them to access the data the first time
Wireless
temperature
logger
A wireless temperature logging system (like Clever Logger) then solve the two limitations of a traditional temperature logger.
A temperature logger that will automatically upload the readings to a centralised server.
This then provides benefits such as being able to notify someone the moment a problem starts, as well as remote access to the data.
Wireless temperature loggers are the ideal solution for monitoring temperature sensitive items where you:
want immediate notification when a problem starts, or
don't want to waste time manually downloading results
The can potentially save you thousands of dollars in both time saving as well as saving stock from spoilage.
How does Clever Logger (a wireless temperature logger) stack up against traditional temperature loggers or a thermometer? Of course it is better!
Here is our "fully stacked in our favour" feature comparison. The one thing we are missing is "Able to run in a cabin out the back of Burke with no internet access". In this case, the others beat Clever Logger.
Know the current temperature
That's the one thing they are designed to do.
That's the one thing they are designed to do.
Only in models with a display
Remote access to current temperature
View the current readings on any web browser or on the phone app.
Instantaneous readings only.
Limited by memory capacity.
Must look to see the current reading only
Must manually connect the logger to a computer to retrieve results.
Results are automatically uploaded.
This typically happens every 5 minutes (and you can change this).
Data retrieved even when staff are sick or on holidays
It is logged, but not saved. You run the risk of losing data if the memory is filled and not saved.
Fully automated.
Once set up, you aren't relying on someone remembering to download the results.
Just what you wrote down.
Just what you wrote down.
As long as you downloaded and saved them.
Still, just what you wrote down.
As long as you downloaded and saved the results.
Min/max and comprehensive reports available.
Formats include pdf (easy to read and share) and csv (great for analysis). 
Clever Logger can automatically email you a report every day, week or month.
Reports include a min/max report and a detailed record. 
Able to identify when a problem started,
and how long it lasted?
Immediately be notified by email and/or alerts to your phone.
Fix the problem before it becomes a major issue.
You have the option to be alerted over and over until the problem is fixed. 
Easy access by others to see the results
Clever Logger is multiuser and you can have as many users as you like.
And there are no hidden costs for additional users.
Some loggers are password protected.
Yes.
You can restrict users to specific locations. This is great for individual departments or stores in large organisations.
Finally a chance to say "YES".
You do not need special software to look at your thermometer!
Finally a chance to say "YES".
You do not need special software to look at your thermometer!
Most loggers require their own software to be installed.
Some support a built-in pdf result.
Access the system from any web browser.
The Clever Logger app is required on your phone if you want to receive notifications.
HACCP Compliant
QCPPP Compliant
Want to see Clever Logger in action? Here are 4 risk-free ways
Scroll down to see videos on what Clever Logger looks like, how to see temperature readings, graphs, alarms and reports.
Log into Clever Logger using our demo account and see it for your self.
Username = demo
Option 3: Risk free trial
We have a 30-day free trial of a single unit. This is a great way to see Clever Logger in use with a single fridge.
Option 4: Risk free purchase
We have a total satisfaction guarantee. If we can't get the system working on your site (and there are some that we can't), or it doesn't deliver on your expectations then we have a money back guarantee.